Home

/

Decked DC Drawers RAM 1500 5'7" bed (1.7m)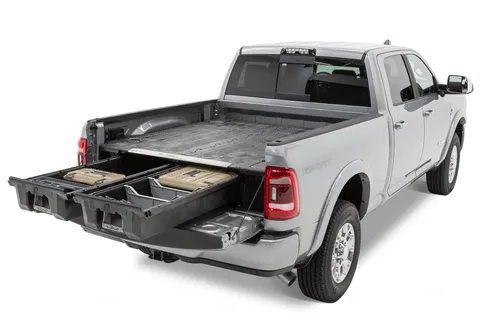 Decked DC Drawers RAM 1500 5'7" bed (1.7m)
Price:
$4,144.43 (Incl. GST)
Stock Level:
Low Stock - Please call us
Description
Get more out of your RAM 1500 with Decked Pull Out Ute Tub Storage Systems - suits 5'7" Bed Length 2009-2018 and 2019 Classic Models. These drawers are perfect for secure tool storage on the worksite or for keeping all your gear organised when you're enjoying the great outdoors. Pair Decked Drawers with the Decked range of accessories for further organisation and convenience in your RAM 1500.

This DECKED system fits a Ram 1500 pickup truck manufactured from 2009 to 2018 and the 2019-current Ram 1500 Classic Edition bed style with a 5'7" bed length. Due to the precision moulding of the Decked design these require plastic tray liners to be removed for installation

KEY FEATURES:
• Two full bed-length drawers - one wider and one narrower drawer for versatility
• Weatherproof and impervious to moisture, extreme UV light and temperatures
• 100kg capacity payload per drawer, 1 tonne evenly distributed on top
• Easy to pack and unpack, ergonomic, pull out at waist height
• Oversized cast aluminium handles for easy use when wearing gloves
• Built from 100% recycled HDPE (High Density Polyethylene)
• Co-moulded to a galvanised recycled steel subframe
• Covered by a 3-Year Warranty

Drawer Dimensions
LENGTH (top of drawer): 61.4"
LENGTH (bottom of drawer): 55.4"
WIDTH (top of drawer): 18"
WIDTH (bottom of drawer): 16.75"
HEIGHT: 8.5"
VOLUME (each): 5.4 FT3
EXTENSION (each): 42"

FITTING cost of $300 applies to this product.