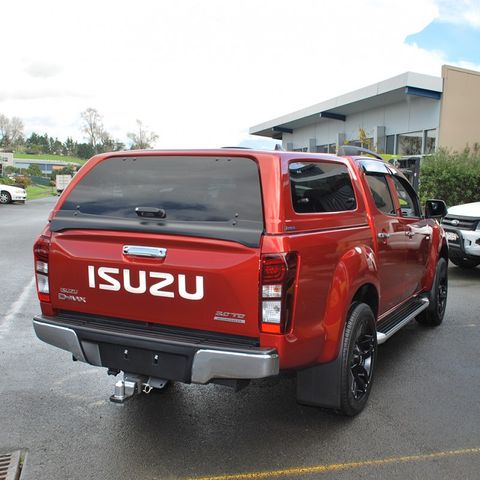 2016+ D-Max Canopy Dual Lift RKE Primer
Price:
$3,959.99 (Incl. GST)
Stock Level:
Low Stock - Please call us
Description
Aeroklas Stylish Canopy with Dual Lift Windows and Central Locking on rear window for your Isuzu RT85/RT87 D-Max Double Cab Ute.
The canopy with central locking from Aeroklas, world leaders in Ute canopy manufacturing. Aeroklas are the first company in the world to offer engineered ABS double shell technology giving extra strength and rigidity. This is one good looking canopy with integrated central locking which locks or unlocks the canopies rear window from your factory key. Better still, it's also practical with twin lifting side windows and a fold down front window. Aeroklas canopies give you the best quality, design, and functionality. They are also paint matched to your Ute giving them an unbeatable finish. They are simply light weight, strong, durable and weather proof. The no drill 6 point clamp fitting system means, no unsightly holes in your Ute tray or risk of rust.

Optional Aeroklas/Rhino track system provides a 80kg roof rack rating.

Note that we recommend Ute canopies are fitted along with an under rail bed liner. If yours is over rail please contact us before ordering.

KEY FEATURES of an Aeroklas Canopy:
• Integrated central locking operates canopies tailgate
• No drilling required for installation
• Roof Rack compatible (80kg with Aeroklas/Rhino track kit)
• Fold down front window allows easy cleaning and ventilation
• Tinted windows
• Single handle opening rear window
• LED High mounted stop lamp
• Interior light

Benefits of ABS double shell technology:
• Strong, light weight and rust free
• Ability to reshape following impact
• Thermoformed from a single piece of ABS so no joins or weak areas
• Easy clean, odour free and power washable interior
• Almost 10Kg lighter than other canopies on the market
• Lower fuel consumption
• 100% recyclable

$250 fitting at our Auckland warehouse applies to this product.

PLEASE NOTE: Canopies are matched to factory colour specs however all vehicles have a colour variance depending on when, who, and where they were painted. So two different vehicles with the same paint code can be shades different. As a result a small shift in the colour of your canopy compared to your vehicle may occur.