Home

/

Recovery

/

TJM Torq Electric Winch 9500LB (4300kg) incl Steel Cable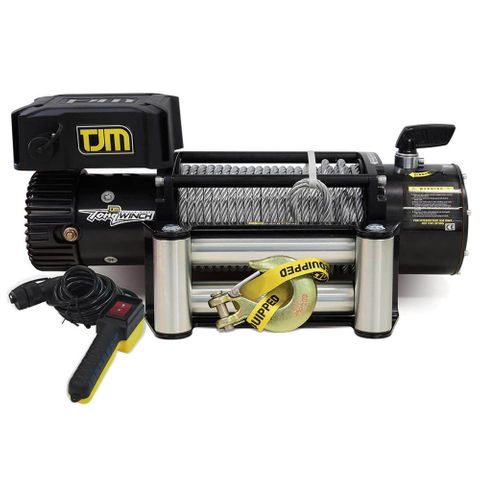 TJM Torq Electric Winch 9500LB (4300kg) incl Steel Cable
Price:
$1,252.35 (Incl. GST)
Description
TJM winches are the essential risk management tool when you're venturing to remote locations and upping the stakes of your 4WD adventure.
This 4300kg (9,500lb) electric winch comes with steel cable and is tested to meet Australian standards. TJM winches provide the right amount of 'grunt' in any situation thanks to the carefully engineered balance of power and speed. For those who enjoy a challenge, owning a TJM winch provides you with the freedom to visit more places. When you're off the beaten track, stuck and lacking traction, it's not always as simple as relying on a mate with traction to bale you out. Steep inclines and muddy conditions are problematic and adding a second vehicle to the dilemma doesn't help anybody. Using a TJM winch, with a wireless remote for added safety, is a much better way to successfully recover your vehicle.

KEY FEATURES:
• 28m x 8.3mm aircraft steel cable with 4 way roller fairlead included.
• Single line pull 9500lb / 4300kg, fast line speed.
• Low current draw 12 volt 4.9hp series wound motor with 3 stage planetary gearing.
• IP67 rated winch body and remote, dust splash and shock proof.
• Wireless remote control with manual isolation switch included.
• Two year warranty.